Discover A Path To Mental, Physical, & Spiritual Wellness Through Adult Martial Arts!
If you're tired of being stuck in the same boring gym routine day after day, it's time to try something new. Our Adult Martial Arts program uses traditional elements of karate and incorporates our own unique brand of Freestyle Martial Arts to develop total-body strength, shed unwanted weight, learn self-defence, and build robust fitness.
Join us in Crewe and take on and exciting, high-energy karate classes that will help you reclaim your body, rebuild your confidence, and revitalise your mind! The benefits of martial arts training are endless, and we'd like to invite you to see for yourself how we can help you build a happier, healthier life at TGA Martial Arts.
Simply fill out the short form on your screen to learn more!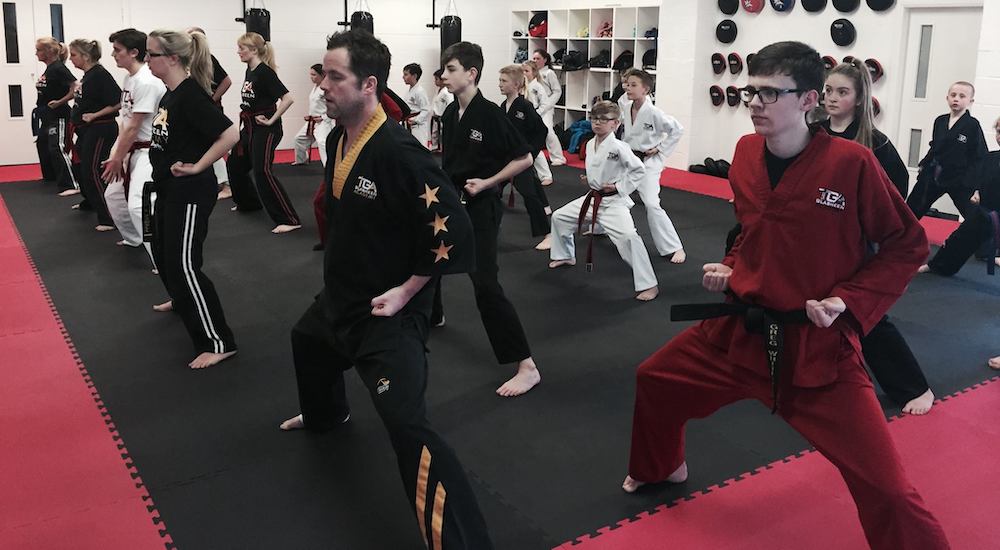 Why Choose Adult Martial Arts?
Our dynamic blend of Freestyle Martial Arts and traditional Karate training is an incredible way to boost your fitness. Not only will you have more energy and experience better sleep, but you'll be able to burn calories, lose weight, and build lean muscle! You'll get hands-on guidance from our team of world-class instructors at TGA Martial Arts and join a passionate community of men and women across Crewe in pursuing a happier, healthier life. Plus you'll learn practical self-defence skills, allowing you to live life fearlessly and with confidence!
Join us in Crewe for Adult Martial Arts that will help you:
Lose weight, build muscle, & achieve your fitness goals
Experience reduced stress & anxiety in everyday life
Get results with professional guidance from black belt instructors
Learn practical self-defence skills for any situation
Become part of an amazing community
No matter whether you're new to the martial arts or bringing a belt with you to your first class, our team at TGA Martial Arts is here to help you with everything from the fundamentals of karate to helping you prepare for competition-level martial arts. We're proud to accept men and women of all ages, fitness levels, and ability into our adult karate classes!
Enroll Today in Adult Karate Classes For Men & Women Across Crewe!
Our team at TGA Martial Arts has decades of cumulative experience in improving the lives of our students. Join us in Crewe to see for yourself how our Adult Martial Arts program has had a real impact on our community... it's never been easier to get started!
Just fill out the short form on your screen to reach out!