Kickstart Your Child's Journey With Kids Martial Arts!
At TGA Martial Arts, we use Freestyle Martial Arts Training and traditional Karate to develop lasting life skills that will help your child find success both in school and in their personal lives. By training with us, our students gain unshakable self-confidence, build discipline, and learn smart goal-setting. Watch your child's eyes light up as they transition from basic techniques to advanced Karate! Each class is full of fun games and exercises, so your child will love our karate classes, plus they'll grow and learn at the same time!
Children from around Crewe have come to TGA Martial Arts and become happier, healthier, and more confident. Your child could be next! Our programs are divided into Little G's Martial Arts (Ages 4-6), Junior Martial Arts (Ages 7-12), Teen Martial Arts (Ages 13-16), and Adult Martial Arts (17+).
Just fill out the short form on your screen to learn more!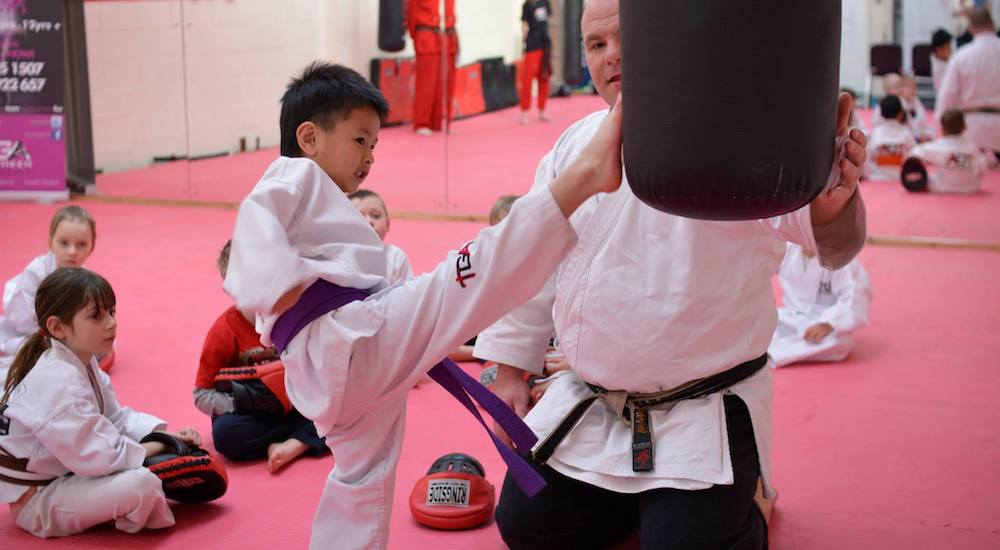 How Can Kids Karate Classes Help Your Child Thrive?
The martial arts are renowned for creating mental, physical, and spiritual growth. Our Kids Karate Classes and our specialty brand of Freestyle Martial Arts has helped hundreds of children across Crewe develop the self-confidence they need to achieve big things, learn the self-discipline necessary to turn those dreams into reality, and practice the smart goal-setting skills required to find lasting success at home and in the workplace.
Our Kids Martial Arts classes provide a sturdy bedrock for learning transferable skills. As your child works toward each new belt, they learn important life lessons in a safe, supportive environment full of positive mentors and new friends. Join us at TGA Martial Arts to begin your child's journey today!
Our Kids Karate Classes Offer:
Soaring self-confidence for each and every student
Improved focus and performance at school
Learning goal-setting skills and how to persevere through obstacles
Important lessons about respect, compassion, and teamwork

And Your Child Will Have Fun While They Learn Karate!
Not only will your child experience a wealth of mental and spiritual benefits, but they'll have a great time in our Kids Karate classes and become stronger, more flexible, and develop their agility and hand-eye coordination. Each class is full of educational games, plus your child will receive individual attention and close supervision from our professionally-certified instructors.
Our team at TGA Martial Arts is proud to provide a kids martial arts program here in Crewe that genuinely sets our students up for lifelong success through Freestyle Martial Arts training, teaching nonviolent confrontation skills and bully prevention, and giving students the guidance they deserve.
Sign up for our Kids Karate Classes today and give your child:
Improved hand-eye coordination & reflexes
More speed, strength, and agility
Effective bully prevention strategies
Lifelong habits of physical health & wellness
Sign Up For Crewe's Favorite Kids Martial Arts Program Today!
We're happy to answer any questions you have and proud to provide the best Kids Karate Classes in all of Crewe. It's never been easier to get your child started at TGA Martial Arts and see for yourself the life-changing power of Karate!
Just fill out the short form on your screen to get started!